Candles in the window. Lights up on the tree. Sleigh bells. Mistletoe. Apple-cheeked kids rushing in from a snowy sled run. Hot chocolate and marshmallows. Carols and cantatas. Family. Friends. And…  loneliness so thick and heavy, it could crush a camel.
Yes, friends. The holidays aren't full of fa-la-la-la-la-ing for everyone. In fact, this can be an especially tough time of year for some. Those facing a job loss or a cut in income. A divorce. An involuntary move. The frostiness of an unresolved conflict. Bad news from the doctor. Betrayal. Feeling utterly alone in the middle of a crowd. Too much money at the end of the month. Distance. One less place set at the table. One less gift under the tree.
If you've been there or are there, you know what I mean. And how difficult the holidays can be. Especially if you're Alone. Or feel that way.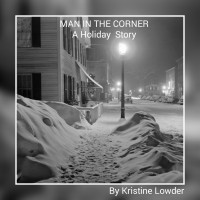 I hear you. It's one reason I wrote Man in the Corner: A Holiday Story. About newly divorced Mae Taylor and her son Josiah. Their plans to start over solo are jostled when they move next door to Mr. Tom, a lonely widower and retired school teacher. Together, the unlikely trio finds a second chance at faith, hope and love with help from Gettysburg, cookbooks, an attic secret and two 'Christmas ghosts.'
But I'm also doing something I rarely do here: recommending another author's novel. With three thumbs up.
It's called The Mistletoe Secret. By Richard Paul Evans, a perennial favorite. Without giving too much away, it's a touching, moving story about two lonely people, Alex and Aria, who brave rejection and loss to find love. Exquisitely written as only Evans can, The Mistletoe Secret is vintage Richard Paul: Honest without being preachy. Hopeful without being sappy. Uplifting and fine. About 306 pages. I read it cover-to-cover in about five hours.
While we're on the subject, I also want to offer a video to those who may be struggling this time of year. You're not alone. Give this Mark Schultz piece a listen:
Grace. And Merry Christmas!